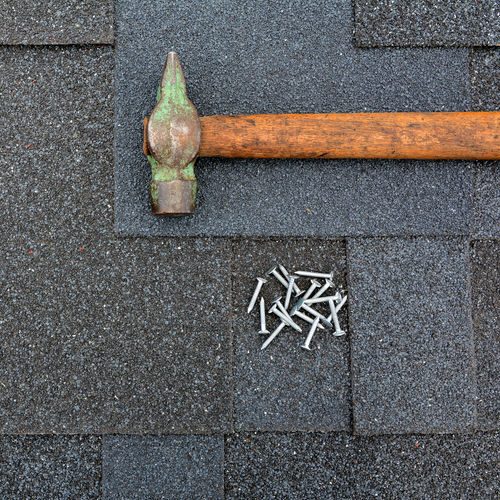 Have Your Asphalt Materials Taken Care Of
T & J Construction is here to provide you with the professional services you need when your asphalt shingles are damaged. We provide replacements of materials as well as secure asphalt shingle repair in Plymouth, MN. Give us a call at 612-249-8522 today to get started.
Asphalt Shingle Replacement & Repair
If your asphalt shingles have been damaged over time or have been subjected to the conditions that come with harsh storms, call on your local roofer for services. An in-depth roof inspection will determine the levels of damages that have been imparted to your roofing system. More localized damages can be helped with a repair while widespread ones will be saved with a replacement. Certain signs of asphalt shingle damages are as follows:
Chipped/Cracked Shingles
Missing or Wind-Blown Materials
Balding/Granules Missing
Water Stains
Mold/Mildew
Dents, Dings from Hail
Although asphalt shingles are able to protect against daily changes, harsh weather conditions can cause several problems for your roof. Hail, in particular, can knock off, chip, dent, or ding asphalt shingles, which can leave your roof exposed or vulnerable to leaks. Our team will be able to assist in making roof damage insurance claims so that the cost of repairs can be covered by your provider. We also provide 24/7 emergency roofing assistance for those cases where your roof needs immediate assistance and repairs. Our lines are open night or day for those unexpected cases of roofing damage.
Give our team of professionals a call for asphalt shingle repair in Plymouth, MN. We're here to provide you with the services you need for a well-working roofing system.
Contact Our Team of Professionals Today
Protect your asphalt roofing materials from further damages and call our team soon. T & J Construction is here to help you with your asphalt shingle repair in Plymouth, MN. Don't let exposed flashing or uncovered underlayment be exposed to rainwater and debris. Uncovered roofing will be more vulnerable to cracks and punctures, which means leaks will be more likely to form. Give us a call at 612-249-8522 today.